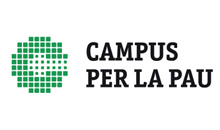 El Campus per la Pau té el propòsit de contribuir a la pau i a la solidaritat amb les persones i societats menys afavorides i promou la cooperació en el desenvolupament, l'ajut humanitari i la sostenibilitat. És la universitat de les ONG, la iniciativa solidària de la Universitat Oberta de Catalunya (UOC).
El Campus por la Paz tiene el propósito de contribuir a la paz y a la solidaridad con las personas y sociedades menos favorecidas y promueve la cooperación en el desarrollo, la ayuda humanitaria y la sostenibilidad. Es la universidad de las ONG, la iniciativa solidaria de la Universitat Oberta de Catalunya (UOC).
The Campus for Peace was created with a view to contributing to peace and solidarity with disadvantaged peoples and societies and promoting development cooperation, humanitarian aid and sustainability. It is a university for NGOs, a socially conscious initiative by the Universitat Oberta de Catalunya (Open University of Catalonia, UOC).