4th OS-REPOSITORIOS Conference (Barcelona, 3-5 March 2010)
26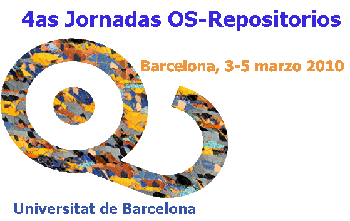 Les 4es. Jornades OS-REPOSITORIOS van tenir lloc a l'aula magna de la Universitat de Barcelona del 3 al 5 març de 2010 amb el títol Polítiques de promoció de l'accés obert. Les van organitzar conjuntament el CBUC, la UB, la UAB, la UPC i la UOC. L'eix central d'aquesta edició van ser les polítiques institucionals de promoció de l'accés obert i temes afins (hàbits d'autors, seguiment de les polítiques, drets, iniciatives per a promoure l'AO, estudis de casos, serveis amb repositoris, etc.). Seguint l'estructura d'edicions anteriors es van programar conferències de convidats, taules rodones, tallers i presentació de comunicacions.
Las 4.as Jornadas OS-REPOSITORIOS se celebraron en el aula magna de la Universidad de Barcelona del 3 al 5 marzo de 2010 bajo el título Políticas de promoción del acceso abierto. Las organizaron conjuntamente el CBUC, la UB, la UAB, la UPC y la UOC. El eje central de esta edición fueron las políticas institucionales de promoción del acceso abierto y temas afines (hábitos de autores, seguimiento de las políticas, derechos, iniciativas para promover el AA, estudios de casos, servicios con repositorios, etc.). Siguiendo la estructura de ediciones anteriores se programaron conferencias de invitados, mesas redondas, talleres y presentación de comunicaciones.
The 4th OS-REPOSITORIOS Conference took place in the University of Barcelona's Aula Magna from 3 to 5 March 2010. The theme was Policies to Promote Open Access. It was jointly organised by the CBUC, UB, UAB, UPC and UOC. The conference focused on institutional policies to promote open access and related topics (author's habits, monitoring of policies, rights, initiatives to promote OA, case studies, services with repositories, etc.). As was the case in previous years, the conference involved guest speakers, round tables, workshops and presentation of papers.
Collection's Items (Sorted by Submit Date in Descending order): 1 to 20 of 26
| Issue Date | Title | Author(s) |
| --- | --- | --- |
| 2010-03-05 | La contribución del Centro de Recursos para el Aprendizaje y la Investigación a la promoción del acceso abierto en la Universidad de Barcelona | Casals Parladé, Judit; Jornadas OS-Repositorios (4as : 2010 : Barcelona) |
| 2010-03-05 | ¿Son nuestros repositorios lo suficientemente sólidos como para asumir mandatos institucionales? | Castro Martín, Pablo de; Jornadas OS-Repositorios (4as : 2010 : Barcelona) |
| 2010-02-05 | ACCEDA y BUSTREAMING : Integración de audio y video en el proceso de autoarchivo del Repositorio de la ULPGC en acceso abierto | Carnal Domínguez, Inmaculada; López Díez, María Pilar; Vera Cazorla, Pino María; Jornadas OS-Repositorios (4as : 2010 : Barcelona) |
| 2010-03-05 | Análisis de la frecuencia de carga en grandes repositorios centrales y repositorios institucionales | González Moreno, Luis Millán; Peset, Fernanda; Ferrer Sapena, Antonia; Aleixandre Benavent, Rafael; Jornadas OS-Repositorios (4as : 2010 : Barcelona) |
| 2010-03-05 | Políticas de promoción del acceso abierto en la Universidad de Salamanca | Merlo-Vega, José-Antonio; Ferreras Fernández, Tránsito; Jornadas OS-Repositorios (4as : 2010 : Barcelona) |
| 2010-03-05 | Instrumentos de gestión para el Depósito digital de la UAB | Azorín Millaruelo, Cristina; Casaldàliga Rojas, Núria; Jornadas OS-Repositorios (4as : 2010 : Barcelona) |
| 2010-03-05 | Retos para la integración e intercambio de información : aprendiendo de NEEO | Poveda Poveda, Ana; Rasero, Victoria; Luyten, Bram; Jornadas OS-Repositorios (4as : 2010 : Barcelona) |
| 2010-03-05 | La accesibilidad en los repositorios | Ribera Turró, Mireia; Jornadas OS-Repositorios (4as : 2010 : Barcelona) |
| 2010-03-05 | The economics of open access | Oppenheim, Charles; Jornadas OS-Repositorios (4as : 2010 : Barcelona) |
| 2010-03-05 | Validador de políticas de acceso abierto | Melero Melero, Remedios; Jornadas OS-Repositorios (4as : 2010 : Barcelona) |
| 2010-03-04 | Los repositorios OA como activos estratégicos de la UPCGLOBAL | Martínez Trujillo, Dídac; Jornadas OS-Repositorios (4as : 2010 : Barcelona); Universitat Politècnica de Catalunya |
| 2010-03-04 | Open Access at Springer | Lettenstorm, Frans; Jornadas OS-Repositorios (4as : 2010 : Barcelona) |
| 2010-03-04 | Open Acess in Bioinformatics & Genomics | Guigó Serra, Roderic; Jornadas OS-Repositorios (4as : 2010 : Barcelona) |
| 2010-03-04 | Recolecta : resultados y balance de su actividad 2009 | Serrano-Muñoz, Jordi; López Medina, Alicia; Jornadas OS-Repositorios (4as : 2010 : Barcelona) |
| 2010-03-04 | Análisis de las de las funcionalidades 2.0 ofrecidas por los repositorios españoles | Margaix-Arnal, Dídac; Jornadas OS-Repositorios (4as : 2010 : Barcelona) |
| 2010-03-04 | Estrategia de la Universidad de Alicante en la promoción del conocimiento abierto | Bayona Giménez, Juan José; Jornadas OS-Repositorios (4as : 2010 : Barcelona) |
| 2010-03-04 | Iniciativas de promoción del acceso abierto en RiuNet, Repositorio Institucional de la Universidad Politécnica de Valencia | Lloret, Andrés; Calatrava Barrio, Eva; Torres, Maria Josep; Jornadas OS-Repositorios (4as : 2010 : Barcelona) |
| 2010-03-04 | Política de acceso abierto a la producción científica en la Facultad de CC Geológicas de la UCM | García García, Javier; Jornadas OS-Repositorios (4as : 2010 : Barcelona) |
| 2010-03-04 | Perspectivas para la sostenibilidad y la preservación de los repositorios institucionales | Térmens Graells, Miquel; Jornadas OS-Repositorios (4as : 2010 : Barcelona) |
| 2010-03-04 | 10 años de repositorios cooperativos | Vega Sivera, Ricard de la; Jornadas OS-Repositorios (4as : 2010 : Barcelona) |
Collection's Items (Sorted by Submit Date in Descending order): 1 to 20 of 26